Orthodontist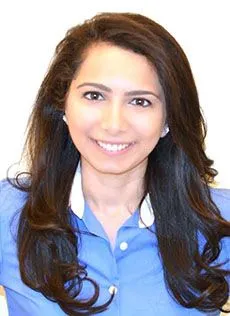 Dr. Merchant completed her undergraduate studies at the Johns Hopkins University where she earned a Bachelor of Science in Chemical and Biomolecular Engineering and a certificate in Entrepreneurship and Management.

Dr. Merchant was then awarded a scholarship to obtain a dual degree at University of Pennsylvania. In four years, she completed a Doctorate of Dental Medicine and a Masters in Bioengineering. While in dental school, Dr. Merchant was selected to treat complex cases in the school's Advanced Dental Care Clinic. She has also organized a clinic that provided free dental health education and services to uninsured patients in the local community.

Dr. Merchant then specialized in Orthodontics and Dentofacial Orthopedics from University of Pennsylvania . During her specialty training, Dr. Merchant was active in orthodontic research and teaching.

Dr. Merchant is an active member of the American Association of Orthodontics, Middle Atlantic Society of Orthodontics, American Dental Association, and the New Jersey Dental Association. She is also a board eligible member of the American Board of Orthodontics. In her free time, Dr. Merchant enjoys traveling and spending time with her family and friends.